Shooting a Short Film in New York City on a Whim
Two months in New York City has given me a new friend, a new film, and newfound confidence
There's a certain energy to New York City. Some theorize the American Dream is strongest here. Others hypothesize it's ley lines. For me, it's the convergence of cultures that creates that palpable creative energy.
I met Maira Barriga some time in November, when my husband and I had just moved back to the USA - we were staying at my aunt's in Connecticut for a few weeks at the time. They invited us to dinner with my new step uncle's son and his girlfriend - Maira. We hit it off immediately.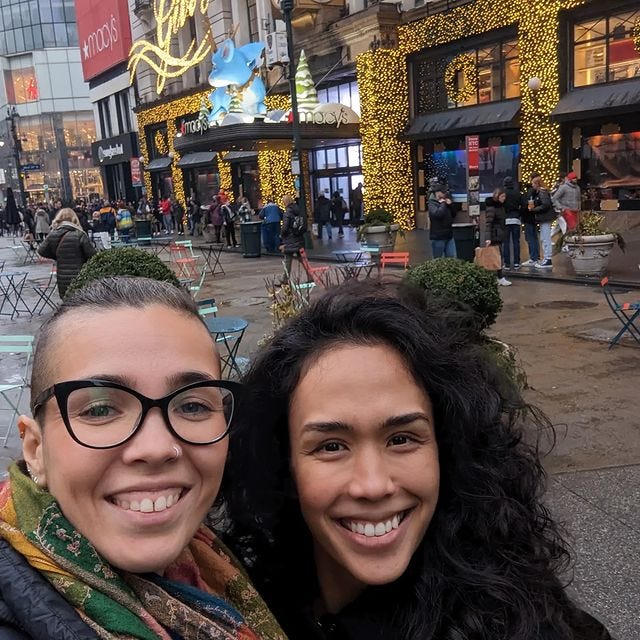 Maira is a former professional ballerina and current model with a social media presence. I'm a filmmaker. I don't even remember how it came up, but when they invited us to Friendsgiving at their place in Brooklyn, I told her that if there's ever anything she'd want to collaborate on in terms of videography, to just let me know.
A couple weeks later we were off and running - working on a whole ass short film.
---
Are you new here?
Grim Reeper Diaries is Manon de Reeper's newsletter about her journey towards making her first feature film. It's probably interesting to other movie writers, directors and producers who've embarked on the same journey.
⇒ Subscribe now to get the Grim Reeper Diaries delivered to your inbox.
⇒ Read through the archive.
⇒ You can also find Manon on Twitter and Instagram.
---
These were the parameters that we were working with: we would only have about two months, we didn't want to spend any money, and given the story that Maira came up with, that we would be shooting in a number of challenging locations. We also wanted to do the vast majority of the work ourselves. I wanted to challenge myself to make something without constraints and obligations - other than to Maira and myself.
We met up and shot film whenever our schedules permitted - Maira is a working model and I spend a lot of time in zoom meetings during the week. Today we are shooting our final scene - two days before I leave NYC.
I think we made something really special - it is… a narrative music video? An experimental music short film? I'm still not sure what to call it. It is a story set to the piece of music, Clair de Lune, about the biggest choice in life that sets one woman's life off into two separate timelines. There's joy, tears and dance.
I'm really proud of what we were able to do in this time. Next is editing and color grading, which is going to be probably another month's work, but I'm looking forward to it.
I learned so much during this production - I had never quite taken the plunge on a "running and gunning" type of project before - I had done some short documentary projects, but not a full narrative short/music video like this. My previous experience had been a full on set for my horror short film, so this was very different. Far less controlled - and we definitely had to wing it from to time, and run with what New York City gave us. But it makes you more flexible, it makes you think on your feet and stretch your creativity.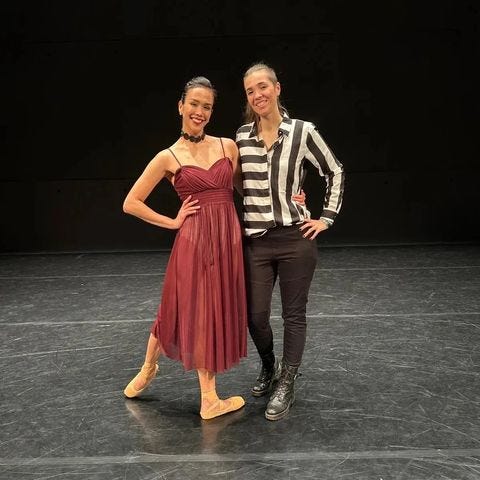 I've become a lot more comfortable with my camera (I shot this on a Sony A7SII with 24-105mm lens for those who are interested). I've become less afraid of using it - I've had this camera for a few years and it always felt like wrangling a venomous snake - something beautiful yet inherently risky - something you always have to fear will hurt you. That fear would often make me avoid my camera, meaning I was taking it with me everywhere but I was too afraid to use it in fear that whatever I created wasn't good enough - always hiding my practice work.
I know now that I am able to use my own camera and create something beautiful. I am slowly unlearning holding myself to a standard of debilitating perfectionism. Sometimes you just have to work with what you've got - and in unpredictable and uncontrollable NYC, you have to make it work with the cards you're dealt any given day. If I can do it here, I can do it anywhere.
---
Things I enjoyed this week
---
Join the Graveyard Shift
Grim Reeper Diaries is written by Manon de Reeper.
Are you enjoying this newsletter?
Forward it to a friend or share it on social media!
Have any ideas for future topics? Share them with Manon at grimreeper@substack.com, or connect with her on Twitter @manondereeper or on Instagram @manondereeper.
---